Maintaining the cleanliness and appeal of outdoor spaces can be a daunting task, especially when faced with persistent problems like algae, mold, and mildew. However, with the right approach, these issues can be effectively resolved, breathing new life into weathered surfaces. In this article, we'll explore a recent pressure washing project in the Clays Crossing neighborhood, located south of Lexington, KY. Paul, a satisfied client, experienced remarkable results on his back patio, thanks to the expertise and diligence of the Bluegrass Soft Wash team.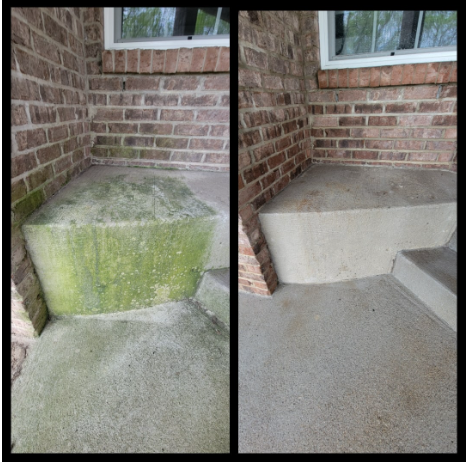 Resolving Long-Standing Issues With Pressure Washing
Paul, the homeowner, had struggled for years to keep his back patio and balcony/deck clean. Despite their best efforts, algae, mold, and mildew seemed to persistently thrive, diminishing the aesthetic appeal of these outdoor spaces. Desiring a lasting solution, Paul reached out to Bluegrass Soft Wash, a renowned pressure washing service in Lexington.
Prompt and Professional Service With Bluegrass Soft Wash
Impressed by their prompt response, Paul scheduled an appointment with Bluegrass Soft Wash and was pleasantly surprised when they arrived the next day. Nathan, the skilled technician, promptly assessed the situation and provided Paul with a detailed quote the following morning. The level of professionalism displayed by the Bluegrass Soft Wash team instilled confidence in Paul, reinforcing his belief that he had made the right choice for his pressure washing needs.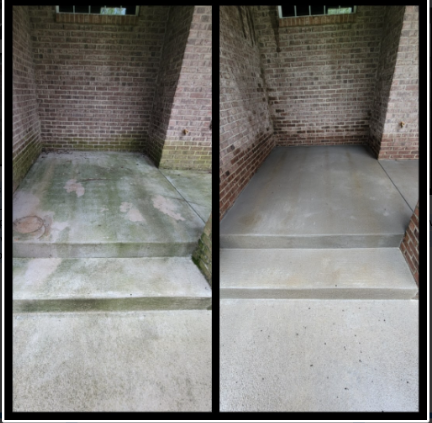 The Bluegrass Soft Wash Difference
Armed with the necessary equipment and expertise, Nathan began the pressure washing process, starting with an effective solution to tackle the persistent algae, mold, and mildew on the back patio. Bluegrass Soft wash utilized a specialized formula designed to eliminate these contaminants, ensuring a thorough cleaning process. This solution not only eradicated the visible signs of growth but also inhibited their future return, offering Paul a long-lasting solution to his patio maintenance woes.
A Transformation Beyond Expectations With Power Washing
Witnessing the transformation firsthand, Paul's wife was amazed at the remarkable job Nathan had accomplished. The once dull and weathered patio was now restored to its former glory, boasting a fresh and clean appearance. The Bluegrass Soft Wash team went above and beyond by utilizing a surface cleaner to pressure wash the remaining concrete, ensuring every nook and cranny received the same level of attention. The attention to detail and commitment to achieving outstanding results left Paul and his wife astounded.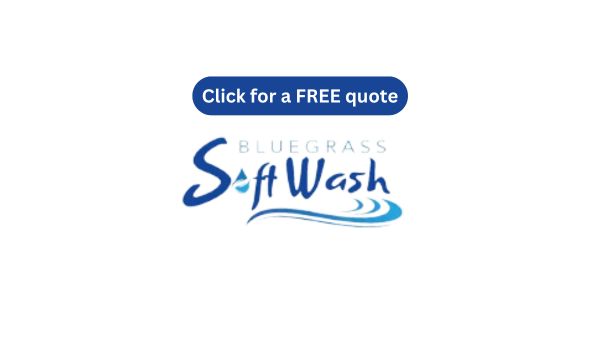 Customer Satisfaction With Bluegrass Softwash
Thrilled with the outcome, Paul wasted no time in expressing his satisfaction. He awarded SoftWash with a well-deserved five-star review, highlighting their exceptional service, punctuality, and remarkable results. Grateful for the professional and effective pressure washing solution, Paul plans to reach out to Bluegrass Soft Wash for future outdoor cleaning projects, confident in their ability to deliver outstanding results.
Paul's experience with Bluegrass Soft Wash serves as a testament to the transformative power of pressure washing. With the right combination of expertise, equipment, and cleaning solutions, even the most stubborn algae, mold, and mildew can be eradicated, revitalizing outdoor spaces beyond expectations. If you find yourself struggling with similar issues, don't hesitate to reach out to professional pressure washing services like Bluegrass Sof tWash. They have the knowledge and tools to bring back the shine to your outdoor surfaces, ensuring a pristine and inviting atmosphere for you to enjoy.
FREQUENTLY ASKED QUESTIONS
What is pressure washing, and how does it work?
Pressure washing is a cleaning method that utilizes high-pressure water to remove dirt, grime, mold, mildew, and other contaminants from various surfaces. The forceful stream of water, combined with specialized cleaning solutions, effectively cleans and restores the appearance of outdoor spaces.
Are algae, mold, and mildew harmful to outdoor surfaces?
Yes, algae, mold, and mildew can be damaging to outdoor surfaces over time. They can cause discoloration, deterioration, and even structural damage if left untreated. Pressure washing is an effective solution to eliminate these contaminants and prevent further damage.
Can I pressure wash my patio myself, or should I hire professionals?
While it's possible to rent or purchase pressure washing equipment for personal use, hiring professionals offers several advantages. Professional pressure washing services have the expertise, experience, and specialized equipment to ensure thorough cleaning, proper handling of surfaces, and effective removal of stubborn contaminants.
Will pressure washing damage my concrete or other surfaces?
When performed by trained professionals like SoftWash, pressure washing is a safe and effective method for cleaning outdoor surfaces. However, improper use of high pressure or using the wrong techniques can potentially cause damage. That's why it's important to rely on experienced professionals who understand the proper pressure levels and techniques for different surfaces.
How long do the results of pressure washing typically last?
The longevity of pressure washing results depends on various factors such as weather conditions, the level of contaminants in the area, and the overall maintenance of the surfaces. While pressure washing can provide long-lasting results, periodic cleaning and maintenance may be necessary to preserve the cleanliness and appearance of outdoor spaces. Regular inspections and timely cleaning can help prevent the reoccurrence of algae, mold, and mildew.